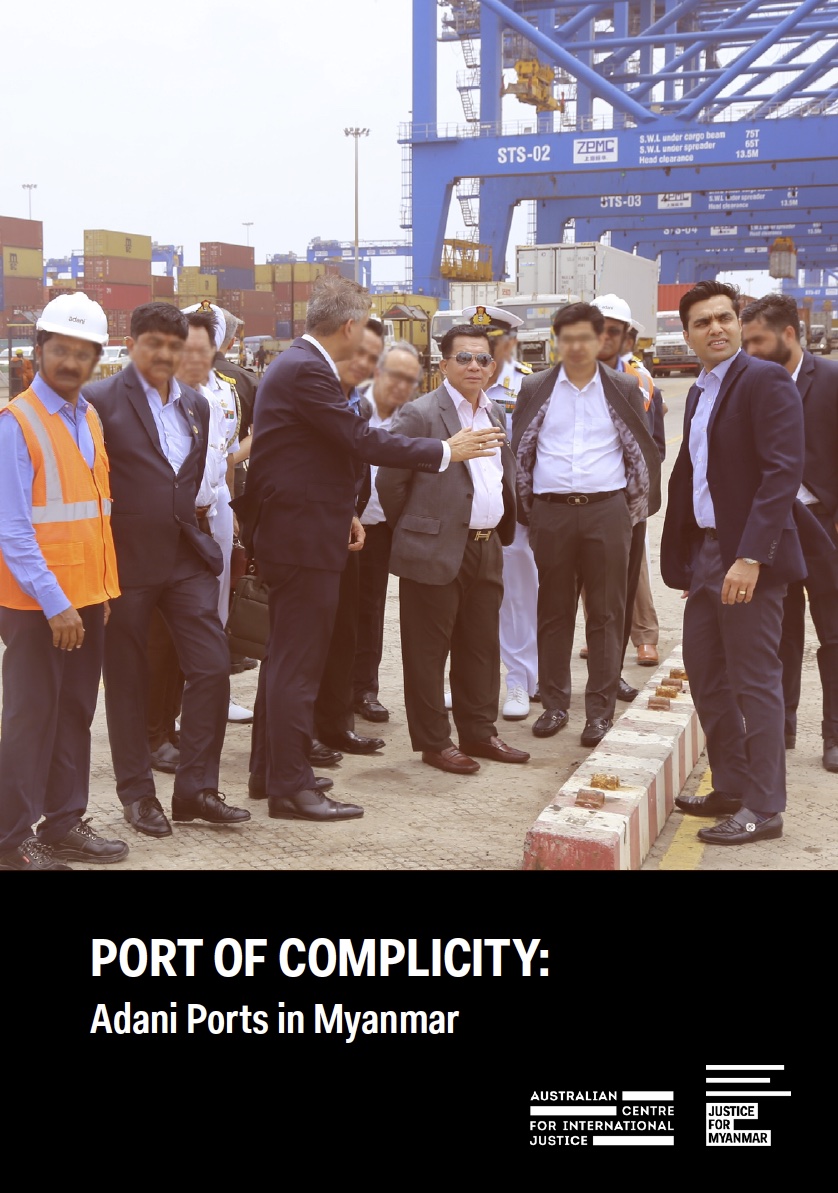 The Australian Centre for International Justice and Justice For Myanmar have published a report, Port of Complicity: Adani Ports in Myanmar which makes an assessment of Adani Ports' failures to disengage from its commercial relationships with the MEC.
Foreign corporations involved in relationships with the Myanmar military are contributing to the devastating damage the military has inflicted on Myanmar and its path to democratic recovery and growth. In our view, Adani Ports' record in Myanmar is a shocking account of the pursuit of profits ahead of commitments to respect human rights.
Location of proposed port, Ahlone International Terminal 2, Ahlone Township, Yangon. © 2021 Google
Adani Group subsidiary, Adani Ports and Special Economic Zone Limited (Adani Ports), is building a container port in Yangon, Myanmar in an agreement with the Myanmar Economic Corporation (MEC), which is identified by the UN as a Myanmar military owned and controlled company.
Adani Ports' construction of a shipping port on military owned land in Yangon has raised the question about the complicity of foreign corporations involved in commercial relationships with Myanmar military companies. The UN has said that companies, like Adani Ports, are at high risk of contributing to or being complicit, 'either in law, fact or in the eyes of the public' with violations of human rights law and international humanitarian law through its contribution to the Myanmar military's financial capacity. In March 2021, the US imposed targeted financial sanctions on the military's two conglomerates, MEHL and MEC because of their links to grave human rights abuses.
The Australian Centre for International Justice is working with the Rohingya community and advocacy groups in Australia and Myanmar to highlight the role of foreign corporations involved in commercial relationships with companies that are owned and controlled by Myanmar's military. In this particular example, we also see the intersecting links between the demands of global justice and climate justice, and the fundamental concerns from the climate justice movement which advocates for a safe future for all people and to drive the urgently needed rapid transition from polluting fossil fuels to clean renewable energy. Adani Ports is funding critical elements of the Adani Group's controversial Carmichael coal project in Australia. The coal project which will unlock the Galilee Basin – one of the world's largest untouched coal reserves and produce 4.6 billion tonnes of carbon pollution.
The atrocities of the Myanmar military
Following decades of persecution, in August 2017, the Myanmar military began its 'clearance operations' of entire Rohingya villages across Arakan (Rakhine) state in Myanmar, resulting in mass killings of civilians, widespread and systematic torture, torching of whole villages, widespread rape and other forms of sexual and gender-based violence, including against children. It forced the mass displacement of over 700,000 Rohingya to seek safety and refuge in Bangladesh. Many of these horrific acts amount to war crimes, crimes against humanity and genocide.
Military violence continues in Arakan, Kachin and Shan states.
The crimes are under investigation
Elements of the Myanmar military's campaign of atrocities are currently under investigation by the International Criminal Court.
The genocidal nature of the military's crimes is the subject of proceedings at the International Court of Justice.
The UN has warned foreign companies involved with Myanmar's military-owned businesses, like Adani Ports, to sever their relationships in order to fulfil their corporate responsibility to respect human rights or risk finding themselves complicit in contributing to the resources available to the Myanmar military's involvement in atrocity crimes.
The UN has said that commercial relationships with Myanmar military owned companies such as MEHL and MEC, help to contribute to the military's financial capacity, which increases their resources and finances their operations.
The military coup in February 2021
On 1 February 2021, the Myanmar military, under the Commander-in-Chief, Senior General Min Aung Hlaing, arrested and detained elected civilian leaders of national and state governments, nullified the results of the November 2020 elections, installed a junta through a 'State Administrative Council' and announced a one-year 'state-of-emergency'.
The military has arbitrarily detained dozens of human rights activists, civil society group members, student leaders and journalists. Since the 1 February coup, the military has employed excessive and lethal force in demonstrations, killing hundreds and wounding peaceful protesters. The military barred access to social media websites, messaging services and independent news sites and cut off access to the internet in rolling shutdowns, while the country also struggles during a global coronavirus pandemic. This systematic campaign of repression has severely impacted on peoples' freedoms of opinion, expression, association and assembly.
Adani Ports' denial
In previous statements, Adani Ports has denied any problems exist in its business relationship with the MEC and the Myanmar military.
In July 2019, Myanmar's military chief, Senior General Min Aung Hlaing, was given a tour of Adani's Mundra port in India. Later, Adani Ports representatives and the military chief exchanged gifts.
The Senior General is being investigated for war crimes, crimes against humanity and genocide. Min Aung Hlaing led the coup to topple the democratically elected civilian government on 1 February 2021.
In Focus: The Future Fund
The Australian Centre for International Justice, working with the Burmese Rohingya Community in Australia (BRCA), submitted an FOI request for the Future Fund, Australia's sovereign wealth Fund, to disclose any holdings it has in Adani Ports and Special Economic Zone Ltd. The FOI revealed the Future Fund has AUD$3.2 million invested in Adani Ports SEZ.
In November 2020, the Australian Centre for International Justice (ACIJ), the Burmese Community in Australia (BRCA) and the Australian Conservation Foundation (ACF) wrote to the Chairman of the Future Fund, Peter Costello, urging the fund to divest all holdings from Adani Ports and any other entities that maintain business ties with Myanmar military-owned companies and the Carmichael coal project.
The Australian Centre for International Justice fights to hold accountable those responsible for the most serious international crimes. It continues to be an enormous challenge.
We work with survivors of torture, sexual violence, genocide and war to research and develop strategies to fight for justice.
We are Australia's first specialist legal centre providing strategic advice and representation to people seeking justice and accountability.
We take action against the impunity of those responsible for committing atrocity crimes. We all benefit by supporting communities in Australia and around the world access justice.
We need your support to fight for justice.
Join us to advance international justice in Australia and make a tax-deductible donation to support our work and help us push our projects and litigation.